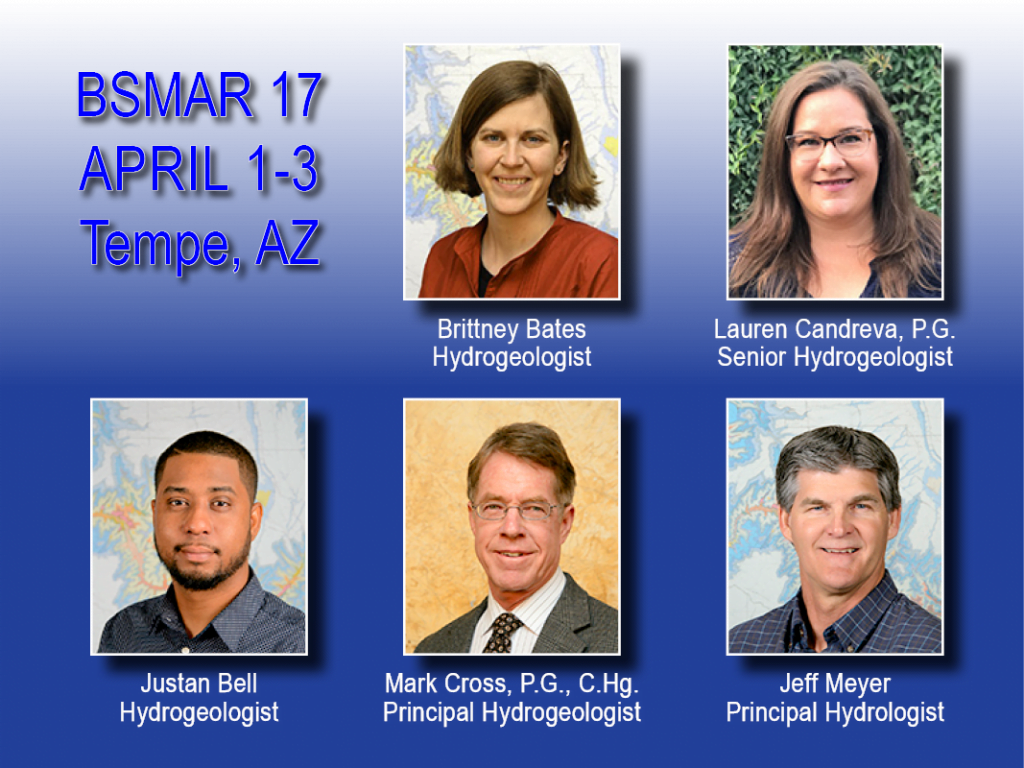 Montgomery & Associates (M&A) is pleased to participate in and sponsor the 17th Biennial Symposium on Managed Aquifer Recharge (BSMAR) April 1-3, 2020 in Tempe, Arizona. Lauren Candreva, P.G., senior hydrogeologist in the Phoenix office, and Brittney Bates, hydrogeologist in the Tucson office, will present at the conference. Also representing M&A at this event are Jeff Meyer, principal groundwater hydrologist; Mark Cross, P.G., C.Hg., principal hydrogeologist; and Justan Bell, hydrogeologist.
Lauren will present "Using Exploratory Borings to Maximize Injection and ASR (aquifer storage and recovery) Well Design." Brittney's presentation is titled "Historical Perspectives and Challenges of Underground Storage Facility Permit Renewals in Arizona."
The theme of this year's conference is Resilience Through Recharge and Recovery. BSMAR is a collaborative effort between the Arizona Hydrological Society (AHS) and the Groundwater Resources Association (GRA) of California. BSMAR 17 will feature oral presentations, poster presentations, an awards luncheon, and optional workshops.
We look forward to networking with clients and colleagues at BSMAR 17, so stop by to visit us at the M&A booth. For more information about the conference, contact Jeff. For more information about M&A's water supply and recharge services, please visit our services webpage.