California's Sustainable Groundwater Management Act (SGMA) is a complex program with a new language that must be mastered by consultants, basin managers, and stakeholders alike. When California first embarked upon the SGMA journey five years ago, there was a lot of trepidation about implementing this bold and untested groundwater management program. M&A's SGMA team has worked on 13 Groundwater Sustainability Plans (GSPs), including three GSPs submitted in January 2020. It hasn't always been easy, and there have been plenty of bumps along the way, but we've learned a lot in those five years, and we are happy to share some of what we learned.
We are pleased to present our top 10 SGMA lessons learned:
Start with the End in Mind
Stay laser-focused on the end goal and schedule. Do not linger at the starting point too long before starting on the next steps. Always ask "is this necessary?" Know where you are in the process and how much time it will take to complete each task. Understand the timing and role of public comments. Plan out five-year updates on the 20-year path to sustainability.
Understand that GSPs are Both Technical and Policy Documents
A GSP is a plan to take action; fundamentally it provides policy direction based on best available science. Stakeholder input directs the SGMA process; and developing a GSP is a balancing act between the stakeholders and the technical work. The Groundwater Sustainability Agency (GSA) and diverse stakeholders need to get up to speed quickly with technical work and understand the policy decisions to be made.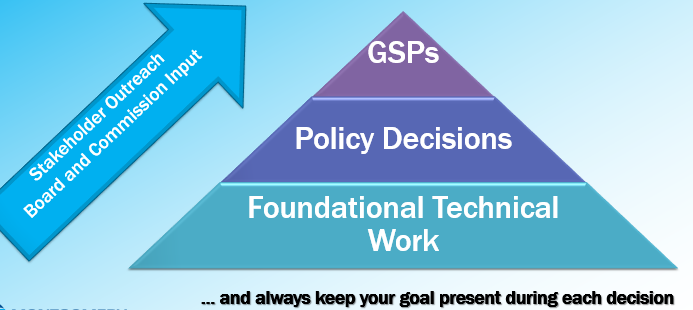 Follow Outreach Best Practices
Community engagement and buy-in are essential. Be sure to engage interested parties in the SGMA process early. Develop shared expectations of what comprises a successful GSP and agree to common definitions and terminology. Actively solicit input and suggestions, and partner with a facilitation consultant if necessary. Scientists and engineers often need to expend extra effort focusing on communication and transparency, and providing learning opportunities for the advisory committee, non-technical team members, and the public.
Tell Your Unique Story
The main GSP sections allow you to tell your basin's unique story. Your stakeholders and decision makers can learn from other GSPs but will have local concerns that make your GSP distinctive. Describe your particular geology, hydrogeology, and estimate of sustainable yield. Explain what sustainability looks like in your basin, how you will measure it, and your unique plan to achieve sustainability. Identify programs and projects that get you to sustainability and outline the costs and schedule to get there. Document your stakeholder engagement process and community support.
Understand the Key Elements that Define Sustainability
SGMA language can be confusing: know the regulations and the definition of sustainability. Clearly spell out the basin's management goal and sustainability criteria. Do not avoid difficult subjects: set undesirable results for all indicators. Tie sustainability to future measurements of groundwater conditions, not modeling results.
Use an Iterative and Collaborative Approach for Developing SMCs, Projects, and Actions
Technical work that underpins SMCs is undertaken concurrently with SMC development, and there is frequent back and forth between consultants, the GSAs, and the stakeholders. Additionally, project cost and feasibility will influence SMC viability. The iterative process is outlined in the spiral graphic below.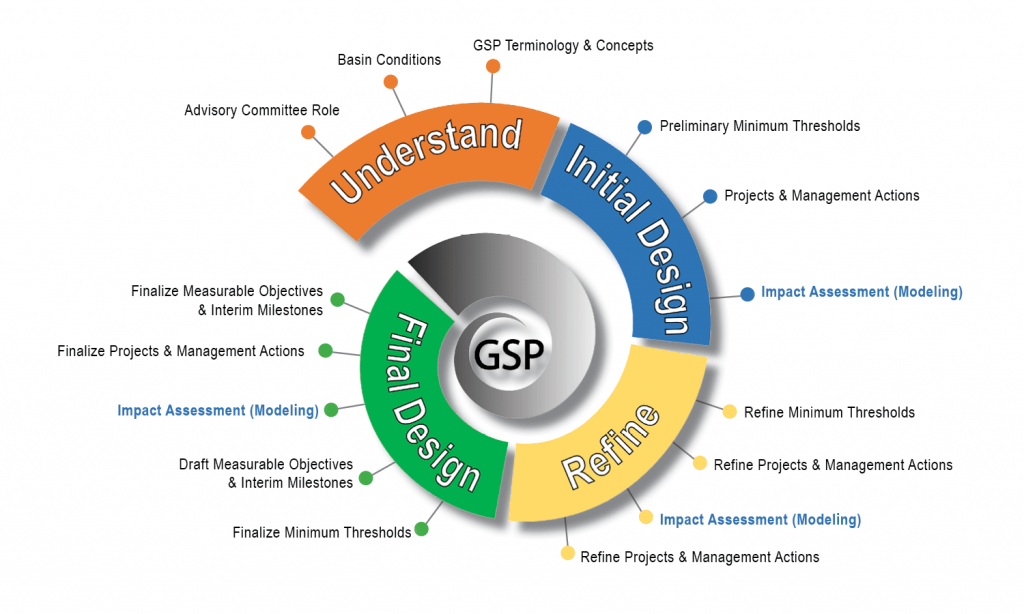 Choose the Right Local Projects and Actions
Projects and actions lead to sustainability. The best approaches provide multiple benefits and are integrated with existing flood control projects and water resources programs. Projects and actions must be not only technically and financially feasible, but also widely supported.
Make Sure Your GSP is Complete (but Not Perfect)
The requirement is a complete GSP that meets all parts of the Regulations. There is no such thing as a perfect GSP. Plan to fulfill data gaps that cannot immediately be addressed and move on. Remember that the five-year update is an opportunity to fine-tune the GSP elements such as sustainable management criteria, monitoring networks, and the groundwater model. You have 20 years to work out the details to achieve sustainability.
Make the Most of Virtual Meetings
Virtual meetings can be challenging so make accommodations to maximize input. We've learned to allow ample time between topics to encourage discussion. It helps to prompt stakeholders with questions and provide information ahead of time so they can get up to speed prior to the meeting. Online forms and chats allow for continuous feedback and Q&A. Shorter, more frequent meetings covering fewer topics may be more effective than one long comprehensive meeting. Smaller workshops with targeted groups can lead to more discussion as opposed to larger public workshops that would have otherwise been in person.
Learn from Collective Experience
We are all working toward the same goal, and we share similar challenges. Study other GSPs. Talk to other basin managers and consultants and share your experiences. Review documents submitted to DWR. Attend conferences and learn everything you can about groundwater sustainability.
SGMA is a long journey that needs to be carefully navigated. It also creates new bonds and a shared understanding of the complexity of water resources management in California.
We look forward to sharing more insights and continuing the conversation with SGMA enthusiasts in our upcoming "AMA" series – a chance to Ask Montgomery & Associates and engage in discussion.
Remember to keep calm, and SGMA on! 
About the Author and the M&A SGMA Team
Lisa Porta, P.E., is a senior water resources engineer in M&A's Sacramento office. She is the project manager of several GSPs and chaired GRA's 2020 GSA Summit, a virtual conference that brought together SGMA professionals across the state. Together with Derrik Williams, P.G., C.Hg., Georgina King, P.G., C.Hg., Cameron Tana, P.E., Abby Ostovar, Ph.D., and others, our SGMA experts provide support to our clients on complex water resources management challenges across the state.