Northern Arizona University graduate student Lilianna Broussalian has been awarded the Montgomery Prize for effective science communication at NAU's School of Earth and Sustainability Graduate Research Symposium, held April 9, 2023.
Lilianna's winning presentation focused on the importance of environmental fate and transport research on tungsten, a new contaminant of concern and critical mineral commodity. She plans to graduate this summer with a master's degree in geology.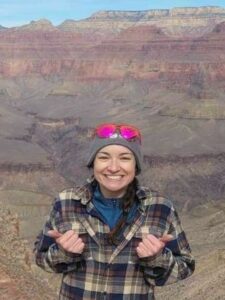 Established in 2009 by former NAU professor and founder of Montgomery & Associates, Dr. Errol "Monte" Montgomery, the annual $2,500 prize demonstrates M&A's ongoing commitment to promoting excellence in research and communication in the field of hydrology and geology.
For more information on M&A and our efforts to give back to our communities, please visit our website.