On Monday, April 15, the Arizona House of Representatives will present House Resolution HR2002 declaring April 14–20, 2019, Arizona Water Professionals Appreciation Week. The resolution, sponsored by Rep. Rosanna Gabaldón (D-Sahuarita), will be presented in conjunction with the AZ Water Association's 92nd Annual Conference and Exhibition held in Phoenix April 16-18. M&A is proud to participate in and support both the conference and AZ Water Professionals Appreciation Week honoring the thousands of individuals working in water-related fields throughout the state.
Juliet McKenna, P.G., principal hydrogeologist, and Megan Zivic, P.G., hydrogeologist, both of M&A's Tucson office, and Lauren Candreva, P.G., senior hydrogeologist in the Phoenix office, will have the opportunity to network with a variety of water professionals at the conference. Megan will also deliver a presentation titled "Forecasting Arizona Residential Water Demand with Dynamic Simulation Modeling."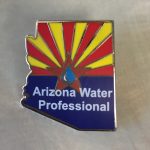 Conference attendees who stop by the AZ Water Resources Committee table will receive a free Arizona Water Professional lapel pin designed specifically for this occasion. Supplies are limited.
For more information, visit arizonawaterprofessionals.com or contact Juliet.