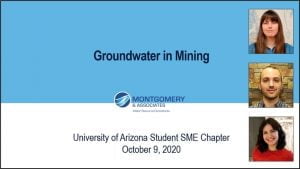 Pictured from top: Megan Zivic, Brandon Schneider, and Courtney Pratt present to U of A mining engineering students
Three representatives from Montgomery & Associates (M&A) recently gave a virtual presentation on mining hydrogeology to the University of Arizona Society of Mining, Metallurgy, & Exploration (SME) student chapter. Brandon Schneider, a groundwater modeler in M&A's Santiago, Chile, office spoke about his background and his role in some recent lithium brine projects in South America. Megan Zivic, P.G., of M&A's Tucson office shared how field investigations are conducted and how the data are used to help mining companies understand and better manage groundwater at their sites. Courtney Pratt, a hydrogeologist in M&A's Salt Lake City office presented on her experiences conducting underground aquifer testing at a gold mine in Nevada and installing instrumentation at a large open-pit copper mine in Utah.  The students asked insightful questions and participated in an engaging discussion. M&A staff would like to thank the U of A SME student chapter for the opportunity to share our expertise.
For more information about our mining hydrogeology services, visit our service pages or contact Chris Peters, P.G. For information about open positions at M&A, visit our careers page.