Northern Arizona University Ph.D. student Valeria Cortés Rivas has been awarded the Montgomery Prize for effective science communication at NAU's School of Earth and Sustainability Annual Graduate Symposium, held April 23, 2022.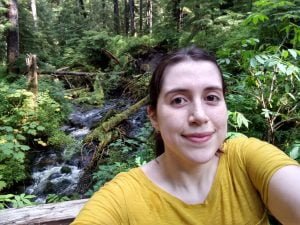 Established in 2009 by former NAU professor and founder of Montgomery & Associates, Dr. Errol "Monte" Montgomery, the annual $2,500 prize demonstrates M&A's ongoing commitment to promoting excellence in research and communication in the field of hydrology and geology.
Valeria, originally from Chile, won for her use of seismic data to understand what happens when two plates of the Earth's crust interact with each other and with water in subduction zones.