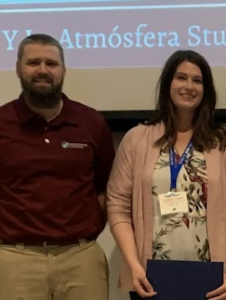 The winner of the Montgomery & Associates $2,500 prize for outstanding oral presentation at the 2022 El Día del Agua y la Atmósfera is Amanda Triplett. Her presentation is titled "Climate Warming-Driven Changes in the Cryosphere and Their Impact on Groundwater-Surface Water Interactions in the Heihe River Basin." Pictured here is Triplett with M&A's Derek Groenendyk, one of the judges for the event.
El Día is an annual event held during EarthWeek and organized by students from the University of Arizona Department of Hydrology and Atmospheric Sciences.
M&A, a long-time sponsor of El Día, is proud to recognize Triplett's excellence in research and communication in the field of hydrology. Triplett holds a master's degree in hydrology from the University of Arizona and a bachelor's degree in molecular biology and science from McGill University in Quebec. Read her winning abstract or view her presentation here.