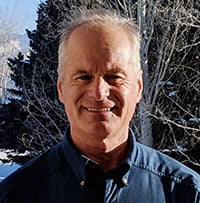 It is with deep sadness that we announce the loss of a member of the Montgomery & Associates family. On Friday, October 30, 2020, our friend and colleague Paul Williams suffered a heart attack while mountain biking. He and his wife, Julie, were on their first day of a camping and biking vacation in southern Utah. Paul was only 59 years old. This news came as a shock to everyone.
Paul was a dedicated athlete. He enjoyed cross-country skiing, rock climbing, and mountain biking. He lived in Bozeman, Montana, and worked out of our Salt Lake City office. Paul joined M&A in 2019, bringing 30 years of mining hydrogeology experience. He was a respected and conscientious professional who was enthusiastic about growing M&A's mining consulting work.
"Paul was a perfect fit for M&A, and working with him was always a positive experience," said Hale Barter, M&A president. "It is incredibly painful to lose a member of our M&A team, and our hearts go out to Paul's family during this difficult time."
In addition to his wife, Paul is survived by two grown children, Paige and Grant. Paul's friends and colleagues may express condolences and share their memories by emailing [email protected], and we will forward the messages to Julie. Read more about Paul here.