The Santiago, Chile, branch of Montgomery & Associates (M&A Ltda.) is proud to announce its recertification in ISO 9001:2015 for the next three years.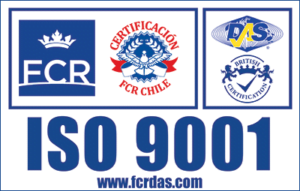 ISO 9001 is a set of international standards for quality management and quality assurance. This three-year recertification demonstrates that M&A Ltda., originally certified in 2017, will continue to provide services that meet client expectations and conform to applicable statutory and regulatory requirements. M&A's initial certification and three-year recertification are the result of developing and refining a quality policy that specifies procedures and methods for all business activities, from hiring new staff to conducting field work.
"The renewal of our ISO 9001 certification deepens M&A's commitment to quality," said Mike Rosko, P.G., principal hydrogeologist, vice president, and Santiago operations manager. "While we have always focused on customer satisfaction, this recertification demonstrates we have the tools to ensure that quality continues to be a priority."
The rigorous certification process required the work of M&A employees Ruth Almendras, logistics coordinator, and Mabel Ramirez, finance assistant, who took internal auditor courses, which they must retake this year. M&A Ltda. will undergo annual audits to maintain its ISO 9001 certification.