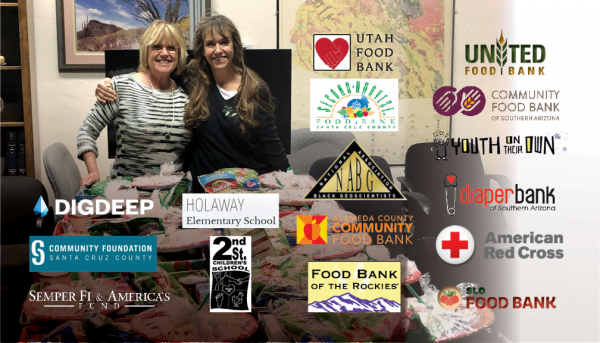 Pictured above, M&A employees Cynthia Stefan (left) and Leilani Bew prepare food boxes for the 2019 donation to Holaway Elementary School in Tucson.
As a company that values community, Montgomery & Associates is pleased to announce that this year's charitable donation match program was a success. Employees contributed to their favorite organizations, and Montgomery & Associates matched each donation up to $100. Together, M&A employees and the company donated a total of $9,365 to the following charities:
Community Food Bank of Southern AZ
Southern AZ Diaper Bank
National Association of Black Geoscientist
DigDeep – Navajo Water Project
Second Street School
Youth on Their Own
National Red Cross
Sacramento Food Bank
Semper Fi & Americas Fund
Second Harvest Food Bank Santa Cruz
SLO Food Bank
Utah Food Bank
Community Foundation Santa Cruz
United Food Bank
The generosity of M&A employees has made a positive impact on our communities, which is especially important during this challenging time.