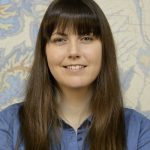 Megan Zivic, P.G., a hydrogeologist in M&A's Tucson office, will present as part of an undergraduate career prep seminar hosted by the University of Arizona geosciences department. As an alumna of the department, Megan was invited to share her experience at the second talk in the seminar series. Her talk will be on Tuesday, October 29 from 4 – 5 p.m.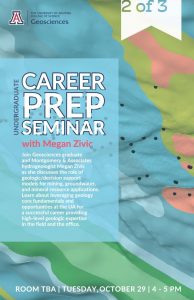 The seminar series, which was developed by the geosciences department and some members of its external advisory board including M&A Principal Hydrogeologist Leslie Katz, P.G., will include talks by geoscience graduates who have pursued varying careers. The intent is to introduce students to some non-academic career paths and highlight the skills, education, and experience necessary for those careers.
Megan will discuss the role of geologic/decision support models for mining, groundwater, and mineral resource applications. "I look forward to sharing my career path and experience with geologic/decision support models," Megan said.
The location of the event is to be announced. For more information, please contact Megan.