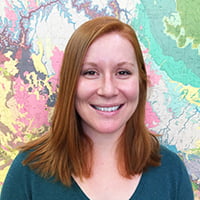 Victoria Hermosilla, hydrogeologist in the Tucson office of Montgomery & Associates, will present at the National Groundwater Association Conference: Water, Energy, and Policy in a Changing Climate February 24-25, 2020 in Albuquerque, New Mexico.
Victoria's presentation is on the Cobre Valley Watershed Partnership. Three small towns east of Phoenix – Globe, Claypool, and Miami – comprise the Cobre Valley, and all grapple with the effects of reduced mining activity, aging water infrastructure, and the uncertainties of climate change. The formation of the watershed partnership seeks to bring together multiple stakeholders to contribute to a Watershed Action Plan. Victoria's presentation will share the watershed partnership's progress and seek feedback and ideas to keep the partnership strong.
For more information about M&A's water resource consulting services, please visit our services webpage.