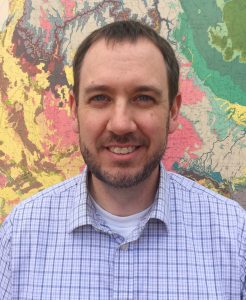 In response to growing opportunities for groundwater modeling projects in mining hydrogeology, M&A is pleased to announce the appointment of Gregory Nelson, P.G., as a senior hydrogeologist effective January 21, 2020. Greg will be positioned in M&A's Salt Lake City office.
Well-known in the mine-water management industry, Greg brings to M&A 16 years of experience in groundwater modeling, mining hydrogeology, and project management. His work has included development of hydrogeological conceptual models, analytical models, numerical models, flow and transport models, and model calibration. In addition to modeling, his expertise also includes aquifer testing, well installation and logging, and senior technical review of scientific reports.
Greg earned his bachelor's degree in geophysical engineering from Colorado School of Mines and his master's degree in geophysics (with a hydrogeology focus) from Boise State University. He is a registered professional geologist in Utah.
We welcome Greg to our modeling team and look forward to working with him on mining hydrogeology and other projects. Visit our service pages for more information about M&A's mining hydrogeology and hydrologic modeling services.