M&A is proud to sponsor and participate in the 2022 Nevada Water Resources Association (NWRA) Annual Conference, held January 31 to February 3 in Las Vegas. Staff from our Salt Lake City and Elko offices will represent M&A, with Paul Pettit, Senior Mining Hydrogeologist, joining a panel discussion on the event's final day.
The February 3 panel, titled "Perspectives in Nevada Water Resources," includes Pettit and others who have worked with water issues for many years. They will discuss changes observed and lessons learned; and share thoughts for the future of water in Nevada.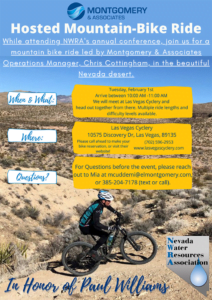 Those attending the conference are invited to join the M&A-hosted mountain bike ride led by Chris Cottingham, principal hydrogeologist and Intermountain West operations manager. The bike ride will be held in honor of friend and colleague Paul Williams, who passed in 2020.
For more information about the conference or M&A's mining hydrogeology and other services, contact Chris.