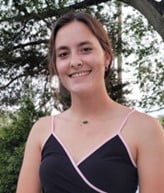 From August 7 to 11, 2023, Montgomery & Associates Tucson will host Natalie Yurek, this year's recipient of the Arizona Hydrological Society (AHS) Halpenny Intern Scholarship. Natalie is a junior in the University of Arizona's Hydrology and Atmospheric Sciences department.
Each year since 1996, the AHS Tucson chapter awards the Halpenny scholarship to a student enrolled in a hydrology related discipline at any Arizona college or university. The award includes a cash prize as well as the opportunity to gain practical experience with water resource consulting firms and environmental organizations in the Tucson area.
"Natalie will be joining the Salinas work to help kick start revising the hydrogeologic conceptual models (HCMs) for the subbasins," said Victoria Hermosilla, hydrogeologist in our Tucson office. This updated HCM will better serve the subbasin as it implements the GSP and looks to site various projects that will aid in overall groundwater sustainability. We are so excited to have Natalie join us!"
M&A has hosted a number of Halpenny interns throughout the years, many of whom became full-time employees: Marla Odom, Mekha Pereira, Tiffani Cañez, and Rachel Spinti.
For more information about M&A's efforts to support education, please visit the community engagement page on our website.