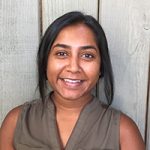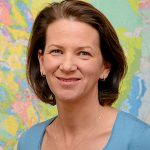 As a proud supporter of AZ Water Association and its work to educate Arizona water professionals, Montgomery & Associates looks forward to participating in AZ Water's  93rd Annual Conference, which is being held virtually July 13-24. Arizona's largest conference and expo for water professionals was rescheduled from April and shifted to a virtual format due to the current health crisis. The conference theme is AZ Water 20/20: A Virtual Vision for Arizona's Water. Presenters from M&A's Tucson office include Juliet McKenna, P.G., principal hydrogeologist (above left), and Mekha Pereira, groundwater hydrologist (above right).
Juliet is presenting "Better Data = Better Planning: Monitoring and Drought Preparedness Planning in the City of Surprise." She is a co-presenter for "Water Augmentation Opportunities in Arizona." Juliet is also moderating sessions on energy and water resources and is involved in AZ Water Association's Water Resources Committee. Mekha is a co-presenter for "Are your wells assets or liabilities? A data-driven approach to evaluate risk."
Beginning Monday, July 13, participants will have access to pre-recorded, on-demand technical sessions in a variety of categories including conservation, groundwater, modeling, and water resources. From July 20-24, participants can access both live and pre-recorded content. On-demand content will be available through October.
For more information about the conference, contact Juliet.