Montgomery & Associates (M&A) is proud to sponsor and participate in the Arizona Hydrological Society's (AHS) 33rd Annual Symposium, to be held in Phoenix September 15-17, 2021.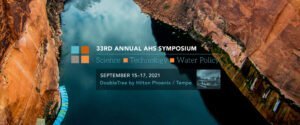 Hosted by the Phoenix chapter of AHS, the symposium offers the opportunity to network and learn about the latest developments in water science, technology, and policy. We look forward to networking with clients and colleagues at the M&A booth!
For more information on the conference or M&A's services in Arizona, please contact Lauren Candreva, P.G., Senior Hydrogeologist and Phoenix Operations Manager.