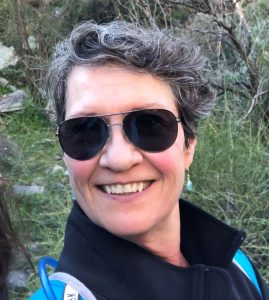 On Monday, August 31, 2020, Montgomery & Associates bids farewell to Janis Blainer-Fleming, principal hydrogeologist in our Tucson office. Janis is retiring after nearly 32 years at M&A.
Janis's leadership, hard work, and commitment to technical excellence have contributed to the success and growth of our company. During her career she worked extensively on field investigations focused on well drilling and site characterizations, led our satellite image analysis group, and mentored our staff about the importance and practice of geology in our work. Prior to joining M&A, Janis earned a Bachelor of Science in geosciences and a Master of Education in secondary education, both from the University of Arizona.
"I would like to thank Janis for spending 32 great years with us. Her friendship, energy, and dedication made M&A a better place," said Hale Barter, president. "It's tough to say goodbye to such a close colleague when we're social distancing and can't throw a proper going away party. We want Janis to know how important she is to M&A and that we will miss her."
In retirement, Janis looks forward to spending time with her husband, Angus, and her daughter, Gillian, who also lives in Tucson. She hopes to soon visit her son, Colin, who lives in Australia. We at M&A wish Janis the very best during the next chapter of her life.