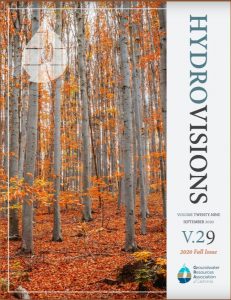 Montgomery & Associates (M&A) is proud to have two contributors to the Fall 2020 issue of HydroVisions, the official publication of the Groundwater Resources Association of California (GRA). Bill DeBoer, P.G. C.Hg., senior hydrogeologist in Oakland, co-wrote "Wells and Words: PVC Well Casing – Heat of Hydration and Other Considerations," and Lisa Porta, P.E., senior water resources engineer in Sacramento, provided a reflection of the Third Annual GSA Summit, which she chaired.
Bill's feature article, co-written with consulting geologist David Abbott, P.G., C.Hg., discusses using PVC casing in well construction projects and highlights some factors a geologist or engineer should consider when designing a well. These factors include wall thickness, collapse strength, the exothermic reaction from curing cement, and thickness of the grout seal, to name a few.
In Lisa's reflection piece, she acknowledges the challenges of 2020 that triggered a quick shift to a virtual conference format. Lisa thanks the GSA Summit planning team, moderators, speakers, and sponsors, and she also discusses the strides made in implementing the California Sustainable Groundwater Management Act (SGMA).
"We see the emergence of new local leaders in groundwater management and a true desire to succeed in sustainably managing surface water and groundwater for our future generations," Lisa said.
Bill has more than 15 years of experience in well design and installation. He joined M&A in 2019 and serves on the Board of Directors of GRA. Lisa joined M&A in 2019 and has more than 12 years of experience in groundwater modeling and integrated water planning experience. She serves on the GRA Board of Directors and is chair of the technical committee. HydroVisions is circulated quarterly to more than 2,300 groundwater professionals and interested parties throughout California.
Read Bill's article, Lisa's reflection, and the complete issue of HydroVisions here.