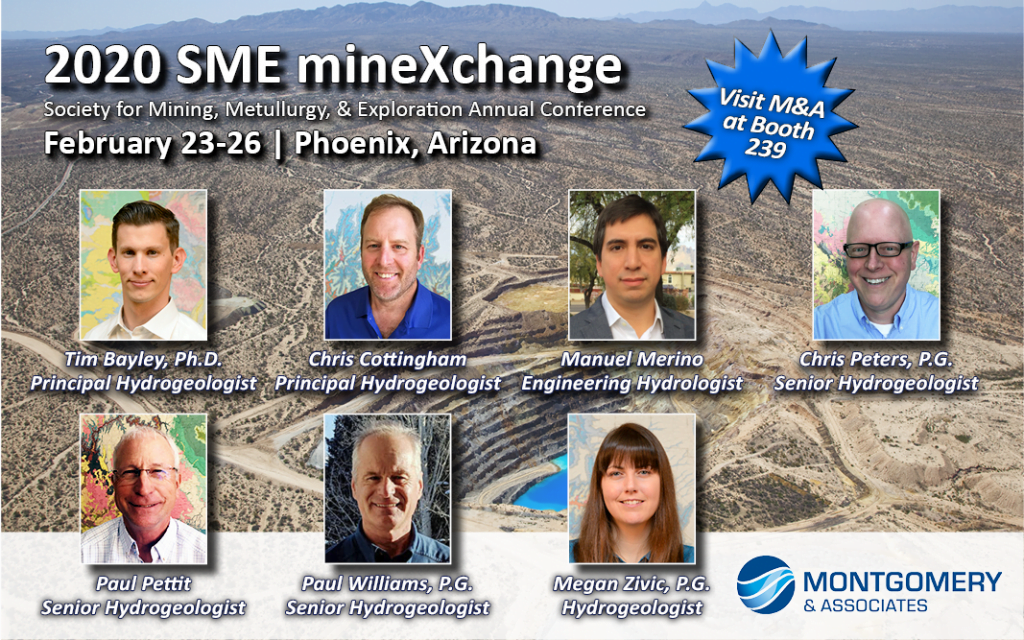 Montgomery & Associates is pleased to participate in MineXchange, the Society for Mining, Metallurgy, & Exploration (SME) 2020 Annual Conference & Expo. The conference will be held at the Phoenix Convention Center February 23-26.
Representing M&A at the conference will be Chris Peters, P.G., senior hydrogeologist in the Tucson office; Tim Bayley, Ph.D., principal hydrogeologist in Tucson; Chris Cottingham, principal hydrogeologist and Utah/Nevada operations manager; Paul Williams, P.G., senior hydrogeologist in Salt Lake City; Paul Pettit, senior mining hydrogeologist in Elko; and Megan Zivic, P.G., hydrogeologist in Tucson. Manuel Merino, engineering hydrologist in Tucson, will also attend one of the courses offered during the conference.
MineXchange features a variety of technical sessions and speakers and attracts thousands of mining professionals from around the world. Technical session topics include coal and energy; critical minerals; environmental; health and safety; innovation and technology; project management and much more.
M&A professionals look forward to networking with clients at MineXchange, so please stop by and visit us at booth 239. For more information about the conference, contact Chris Peters. For more information about M&A's services in mining hydrogeology, visit our services webpage.