In celebration of World Water Day on March 22, 2021, Lisa Porta, P.E., senior water resources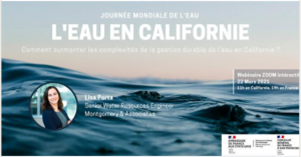 engineer in the Sacramento office of Montgomery & Associates, was featured in an interactive webinar about California water. According to the UNESCO website, World Water Day is held annually to focus on the importance of freshwater and to advocate for the sustainable management of freshwater resources. The webinar titled "Water in California: How to overcome the complexities of sustainable water management" was organized by the French Consulate in San Francisco in partnership with the French Embassy in Washington, D.C.
Lisa, a native French speaker, was interviewed by the French Consulate Science & Technology Attaché. An open Q&A with the audience followed the interview segment of the webinar. This event was a great opportunity to recognize the international significance of World Water Day.
"I enjoyed this experience designed to raise awareness of water management issues in arid climates," Lisa said.