Derrik Williams, P.G., C.Hg., principal hydrogeologist in M&A's San Luis Obispo office, presented at a virtual conference hosted by Law Seminars International. The conference, Groundwater Sustainability Plans (GSPs) in California, was held July 16-17, 2020.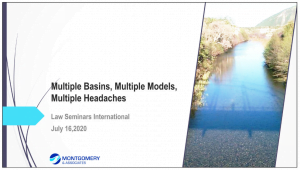 Derrik's planned presentation was officially titled "Using groundwater models for intra-basin and inter-basin coordination." What he actually presented was "Multiple Basins, Multiple Models, Multiple Headaches," addressing the fact that relatively little inter-basin coordination has taken place despite the SGMA requirement that one GSP cannot prevent an adjacent basin from achieving sustainability. His talk focused on what to look for when comparing different models in adjacent basins and discussed why coordination between basins is important even for basins that are not in overdraft. The seminar was geared toward attorneys, environmental, real estate, and agricultural professionals, government officials, water agency board members, and others.
For more information about groundwater sustainability in California and M&A's groundwater management services, contact Derrik.