Montgomery & Associates is proud to recognize Arizona Water Professionals Appreciation Week, May 8-12. The fifth annual celebration begins with a reading of the Proclamation in the Arizona State Capitol Rose Garden.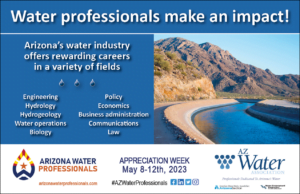 The recognition program, held during the AZ Water Association 96th Annual Conference & Exhibition, was started by members of the water industry to recognize our role in clean and sustainable water supplies, draw attention to career opportunities in the water industry, and increase awareness of Arizona's unique water resources.
Thousands of professionals work in water-related fields in Arizona, and we need new employees each year due to growth in the industry and to replace an aging workforce. The water industry offers a wide variety of rewarding career opportunities in engineering, hydrology, water operations, biology, policy, economics, business administration, law, and communications.
For more information visit arizonawaterprofessionals.com and show your support by adding #AZWaterProfessionals to your social media posts.